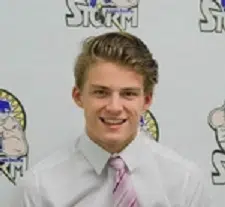 The latest defenceman to join the Kimberley Dynamiters says he's excited to join a winning organization.
Mitch Fargey was shipped to the Nitros from the Kamloops Storm last week.
The 18-year old blue liner says he's going to give it his all every game.
"I'll do whatever it takes to help this team win some games this year." says Fargey. "I like to think of myself as an offensive-minded defenceman who can kill penalties as well."
Fargey says he learned a lot from his rookie season in Kamloops.
"Just learning to deal with the bigger players in this league and learning to think a little quicker." says Fargey. "Making that step from the [BCMML] to the [KIJHL]."
Fargey put up 13 points and 50 penalty minutes in 40 games with Kamloops last season.
– Mitch Fargey, Kimberley Dynamiters defenceman