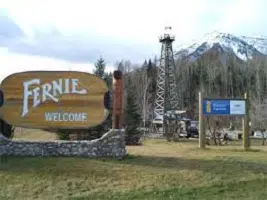 The Regional District of East Kootenay is celebrating the completion of the largest construction project in its history.
An event was held Tuesday afternoon to mark the completion of the West Fernie Servicing and Restructure project.
The event featured a number of speakers including Minister of Tourism, Arts and Culture Lisa Beare.
"This type of infrastructure is what makes communities thrive, what actually makes them good places to live and to work."
Beare added its important for the province to support major infrastructure projects such as this.
"We're so excited to be able to support a town like Fernie with the 5,000 plus residents and ensure that it remains a great place to live, and it's through projects like this, through investing in the infrastructure."
The 16 million dollar project expanded the City of Fernie's municipal boundaries to officially welcome properties on the south side of Highway 3 into the community.
It also provides West Fernie homes and businesses with upgraded water and stormwater systems.
The existing systems were over 50 years old and deteriorating.
– Lisa Beare – Minister of Tourism, Arts and Culture