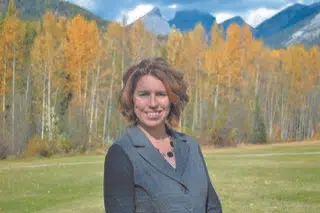 A Fernie City Councillor will be running for mayor in October's municipal election.
Ange Qualizza is tossing her name in the mayoral race after serving a term at the council table.
She says Fernie's housing crisis needs to be addressed in council's next term.
"Our housing problem is impacting our economic function. We have businesses that no reason to be closed that are being closed because of staffing crisis, and so we need to create a variety of housing products in the next four years that's going to work for our community."
She says her background in economics is a perfect blend for working with the city.
She has also been involved with a number of committees since joining city council.
"I ran off the floor for the Association of Kootenay Boundary Local Government. [I] was elected by my peers of mayors and regional directors to be on the executive board. We're a board that highlights the issues facing our region. We're responsible from Elkford all the way over to Grand Forks and all the way up to Nakusp."
She has also taken part in visits to Colombia through the Federation of Canadian Municipalities' Sustainable and Inclusive Communities in Latin America initiative.
The election goes October 20.
– Ange Qualizza – Fernie City Councillor