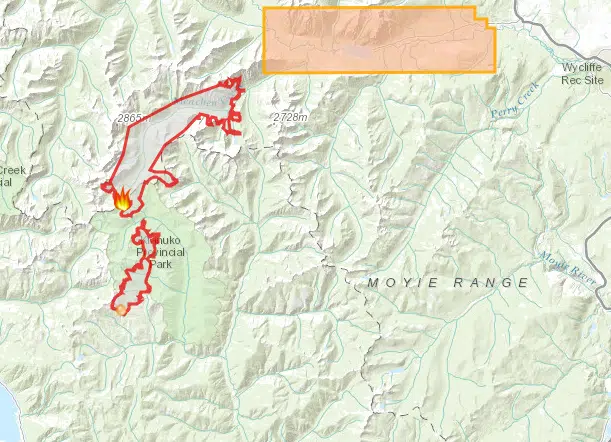 An evacuation order has been issued for 65 properties in the St. Mary Lake area to Kimberley's west.
The Regional District of East Kootenay took the action last night upon the recommendation of the BC Wildfire Service due to high winds increasing the Meachen Creek wildfire's behaviour.
RDEK Emergency Operations Centre director Terry Balan says evacuees are asked to register at the Emergency Reception Centre at Centennial Hall in Kimberley.
"That's where we have instructed evacuated people to first attend so we can keep track of the people coming out of those areas. We really encourage people, even if you're not looking for support through emergency social services, that you do try to check in to the reception centre."
The order covers the same properties which had previously been on evacuation alert.
Meanwhile, an Evacuation ALERT was also issued last night for the entire city of Kimberley.
The alert covers all properties within municipal boundaries and properties in the RDEK directly south and southeast of the City boundaries.
Balan says the evacuation alert is meant to give people a chance to prepare.
"It's put in as a precautionary measure to allow people to get ready for that next stage if and when it comes. It's time to look after your personal items, look after your boats and RVs and those kinds of things."
Elsewhere an evacuation alert for 121 properties north of Kimberley in the Ta Ta Creek area as well as for one property near Yahk are still in place.
The evacuation order for nine properties outside of Radium still stands.
– Terry Balan – Emergency Operations Centre Director, Regional District of East Kootenay