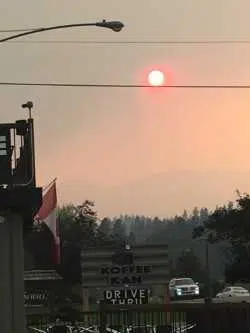 Interior Health is offering suggestions to help deal with the smoke in the air.
Medical health officer Dr. Sue Pollock says you should use common sense with outdoor activity.
"We don't necessarily discourage people from doing physical activity because that's important for their health. If they're outside doing activity and breathing becomes difficult or uncomfortable they should stop or reduce their activity. Additionally, if they're experiencing irritation of their eyes, nose or throat they should reduce their exposure."
She adds conditions indoors can sometimes be as bad as being outside in the smoke.
"Smoke can penetrate buildings and the indoor air quality can be as bad as outdoors, so it's actually recommended that individuals, if possible, have an air conditioning unit that's on recirculate and that they keep their doors and windows shut.
Additional smoke is in the air due to burnoff operations on the large Meachen Creek fire west of Kimberley.
– Dr. Sue Pollock – Medical Health Officer, Interior Health