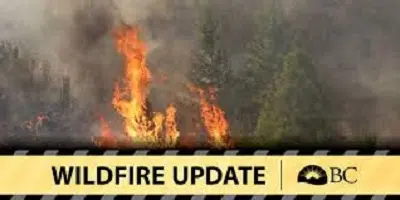 We could see some long-awaited rain this weekend.
This from BC Wildfire Service Information Officer Ryan Turcotte, who says precipitation is forecasted for most of southern BC Sunday, while Environment Canada is predicting showers in our region.
"Looking ahead to the extended forecast, we are expecting more unstable conditions over the weekend and by Sunday, precipitation is expected across most areas of Southern BC and a broad part of the Northeast," Turcotte says. "We may begin to see some more significant precipitation by Sunday, mostly confined to the Southern Interior."
Rain is expected in the East Kootenay as early as Thursday night or Friday morning.
The BC Wildfire Service says this year's hot and dry fire season has been costly.
Turcotte says the cost of battling fires since early spring has passed the $200 million mark.
"Since April 1st of this year, there have been 1,937 wildfires that collectively have burned 629,000 hectares of land" Turcotte says. "BC Wildfire Service costs to date are estimated to be $282.6 million."
Crews continue to battle the near 7,000 hectare Meachen Creek fire west of Kimberley which has prompted an evacuation order for 65 St. Mary Valley properties and an evacuation alert for the entire City of Kimberley.
Fire activity in the area could increase Thursday with less smoke in the air.
The Lost Dog fires north of Kimberley are 90 per cent contained.
An evacuation alert for 121 Ta Ta Creek area properties as well as one property near Yahk is still active.
Nine properties outside of Radium remain on evacuation order.
– Fire Information Officer Ryan Turcotte, BC Wildfire Service