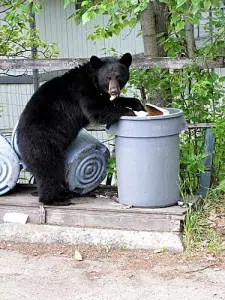 It would take more than smoke to drive bears away from their natural habitats.
So says Danica Roussy with WildSafe BC Kimberley-Cranbrook as bear sightings were reported over the weekend near the two cities.
Roussy says bears don't usually head into urban areas when their habitat is destroyed.
She adds bears are normally active around this time and preparations for winter have already begun.
"Normal behaviour for bears to be bulking up at this time of year," Roussy says. "Kimberley has a lot of natural corridors, Cranbrook has a lot of livestock and farms on the outskirts of town."
Roussy says what brings the animals into town is hunger.
"Attractants such as livestock, so chickens or even bees," Roussy says. "Its very important to manage attractants and keep them as secure as possible."
Roussy adds residents should keep bird feeders indoors and make sure barbeques are cleaned immediately to avoid problem wildlife.
– Danica Roussy, WildSafe BC Kimberley-Cranbrook Community Coordinator