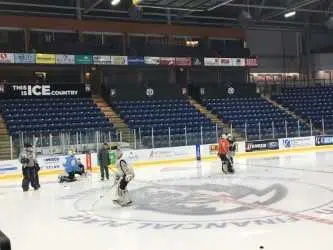 The WHL's Kootenay ICE continue to work towards getting game-ready ahead of the start of pre season action.
Forward Keenan Taphorn says training camp has been intense.
"Our guys are one year older and we have a strong group coming back. I think our core guys are really strong right now so we definitely have a lot of confidence heading into the season."
Defender Jonathan Smart says this year's crop of blue-liners are gelling nicely at training camp.
"On the blue line, some of those guys are my best friends, and I think they would say the same. I feel like we're going to have a good D [defense] core and a lot of chemistry."
The ICE hold their training camp showcase tomorrow night in Kimberley.
Their first exhibition game is Friday.
– Keenan Taphorn, Jonathan Smart – Kootenay ICE players