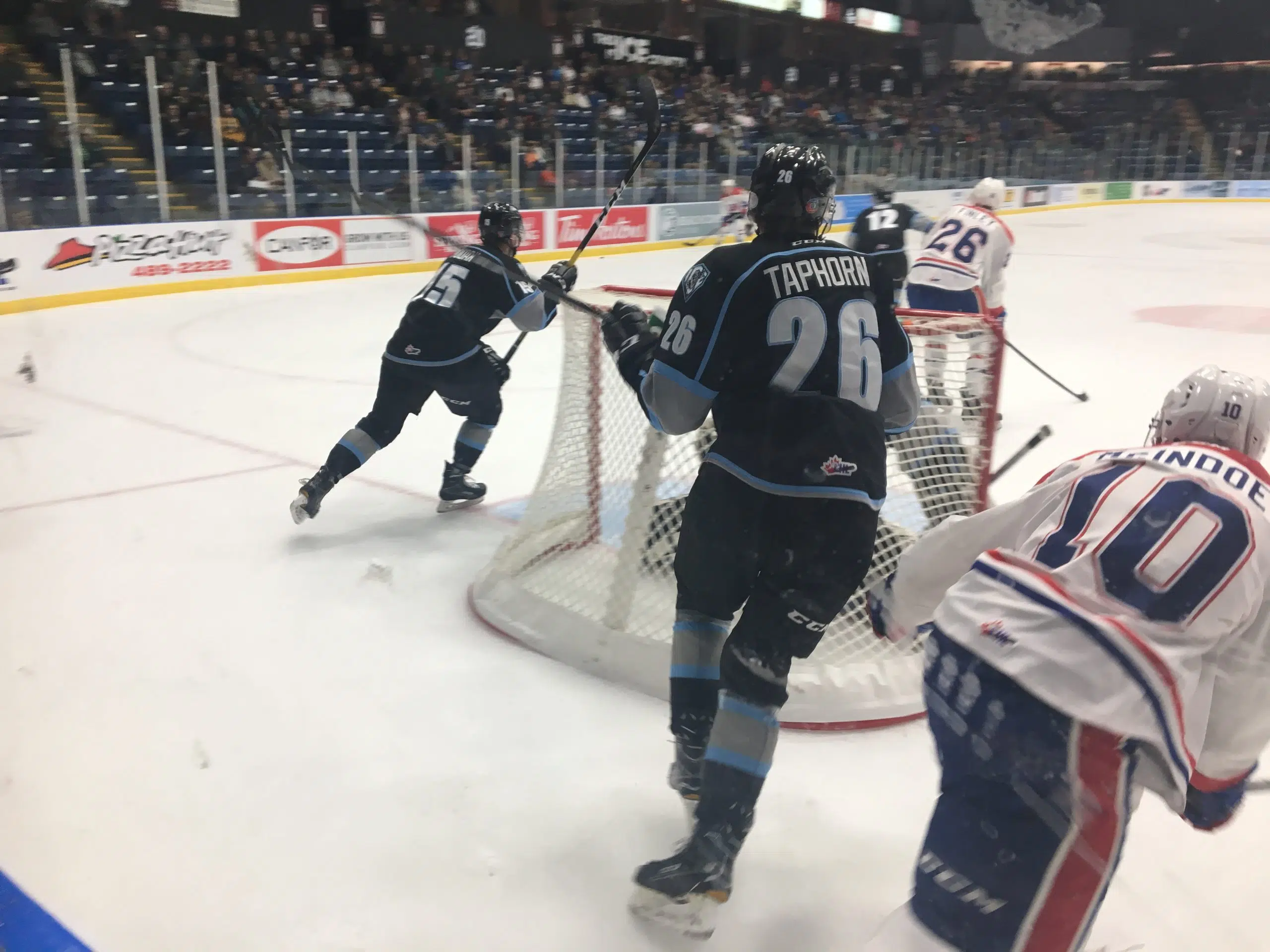 The Kootenay ICE came close to pulling off a miraculous 3rd period comeback versus the Spokane Chiefs tonight, but ran out of time.
The ICE found themselves trying to dig out of a 5-1 hole when they came alive in the final frame with three goals over a seven minute span, but were sunk by two Chief goals with the goalie pulled in favour of an extra attacker.
The first period was hard-fought, Spokane would leave the opening 20 minutes with a 1-0 lead courtesy of a goal from forward Riley Woods who trickled a puck past ICE keeper Duncan McGovern.
The game began to unravel for the ICE in the second period with Spokane potting a pair of goals, including a power play marker off a point blast from Jake McGrew at 14:05 to give the Chiefs a 3-0 lead.
The ICE would reply, Brett Davis converted on a Kootenay power play to put the ICE within striking distance at 16:30.
Moments later Peyton Krebs displayed some nifty stickwork behind the Spokane net and nearly had the ICE within one goal, but hit the post. From there the puck found its way to Spokane's Adam Beckman who rushed up the boards and fired a puck past McGovern to make it 4-1 heading into the third period.
Spokane added another tally after Matt Leduc was able to blast a puck through a crowd, McGovern didn't see the shot, that made if 5-1 for the Chiefs.
The ICE would mount a flurry starting at the halfway point in the third period with goals from Brad Ginnell, Nolan Orzeck and Brett Davis' second goal of the game, which put Kootenay within one goal of Spokane, but 5-4 was as close as the ICE would get.
Spokane sealed the win with a pair of empty net goals to leave Western Financial Place with a 7-4 win.
After the game ICE forward Cam Hausinger was visibly disappointed with the loss.
"We can't dig ourselves a hole, we can't expect to win games if your letting in 5 goals," says Hausinger. "It's something we've got to clean up, little mistakes are costing us big out there."
ICE defender Jonathan Smart says they had a slow start, "You gotta play the first two periods in order to have a chance to win."
Head coach James Patrick says self-induced mistakes were a difference-maker. "I really felt a lot of the goals were self-induced, obviously they're a really good skating team, they put you under pressure."
The loss brings Kootenay's record to 1-1-0-0.
They'll face the Chiefs again Saturday in Spokane in the second half of their home and home series.
– Cam Hausinger – Kootenay ICE Forward 
– Jonathan Smart – Kootenay ICE Defenceman
– James Patrick – Kootenay ICE Head Coach