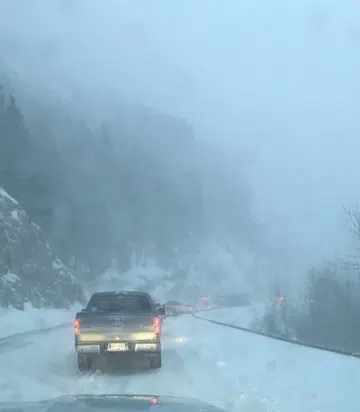 East Kootenay Traffic Services is warning everyone to drive to the conditions as a winter storm hits the region.
Environment Canada issued a snowfall warning for the Elk Valley as 30 centimetres could fall by Tuesday night.
Invermere and the Columbia Valley are also seeing a dumping of snow, as 10 centimetres is expected Tuesday evening into Wednesday morning.
Inspector Dale Sommerville says drivers need to get their vehicles ready before more snow falls.
"We all have the mud and snow tires, the all season tires, which are capable in weather conditions that don't match the East Kootenay," Sommerville says. "Here it is October 2nd and we are at the point of our first early snowfall."
Sommerville says winter specific tires are needed in the East Kootenay.
"Those tires that are recommended for winter use only need to be put onto our cars immediately," Sommerville says. "As of October 1st, the province does require mud and snow tires on this date and we as the RCMP on top of that recommend winter specific tires."
Drivers should also prepare for slippery roads and reduced visibility.
– Inspector Dale Sommerville, East Kootenay Traffic Services