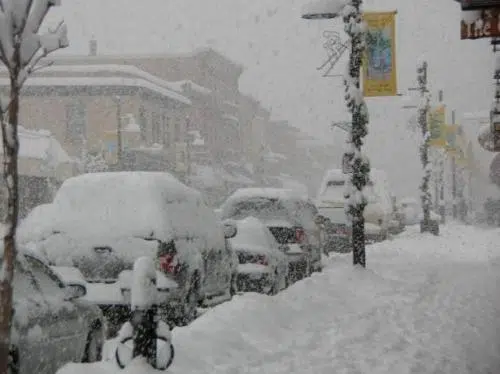 Environment Canada expects snowfall records to be broken for several communities following Tuesday's storm.
Meteorologist Doug Lundquist says nearly 30 centimetres of snow fell over two calendar days in Fernie, Sparwood and Elkford.
"Because a heavy snow event like this gives us so much snow, its usually a daily record," Lundquist says. "For example, for the 2nd, the old record was only 1 cm and the 3rd was only 0.4 cm. So I think perhaps both those days will be records because it was spread out over a couple of days."
Lundquist expects warmer temperatures to come into the region, melting built-up snow in valley bottoms.
"Its looking drier, a ridge of high pressure is building in from the West, so we're forecasting a mix of sun and cloud throughout the week," Lundquist says. "Maybe toward the weekend is going to actually be the warmest, with highs for example down in Cranbrook getting close to 10 degrees on Saturday."
Lundquist says this is not the earliest time the region has seen a major snowfall.
He says in 2005, 47 centimetres came down in the Elk Valley September 10th.
Lundquist adds the region has even seen major storms happen as early as August in past years.
– Doug Lundquist, Environment Canada meteorologist