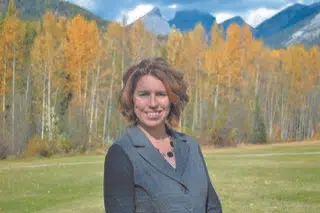 The City of Fernie now has a new mayor.
The Preliminary Election Results are in and current City Councillor Ange Qualizza has won the mayoral race.
The numbers show Qualizza with 1122 votes, ahead of Sharon Switzer with 893 and Mary Giuliano with 477.
Qualizza says she's excited to take on this new role.
"I'm pleased with my campaign, I'm proud of every single person who supported me. I think its really great to have two other mayors competing for the opportunity. It really makes people pay attention." Qualizza says. "I just think this is Fernie's election as much as it is mine. I just think its been a great process for everyone involved"
Qualizza hopes to work with City Council shaping a new direction for the community.
"We have a wall of enthusiastic and bright people that are applying for the job because they want to make a difference," Qualizza says. "So bringing in a facilitator to do a couple of days of training to show the new councillors how to participate in the process is going to make them feel more valuable."
Qualizza was also impressed by the number of voters who went to the polls.
2561 votes were cast in Fernie, translating to a 65.3% voter turnout.
Only one returning Councillor was re-elected to the council table.
Phil Iddon will work alongside Kyle Hamilton, Kevin McIsaac, Morgan Pulsifer, Yvonne Prest and Troy Nixon on the new council.
Kevin McIsaac served on Fernie Council before 2014.
– Fernie Mayor-Elect, Ange Qualizza