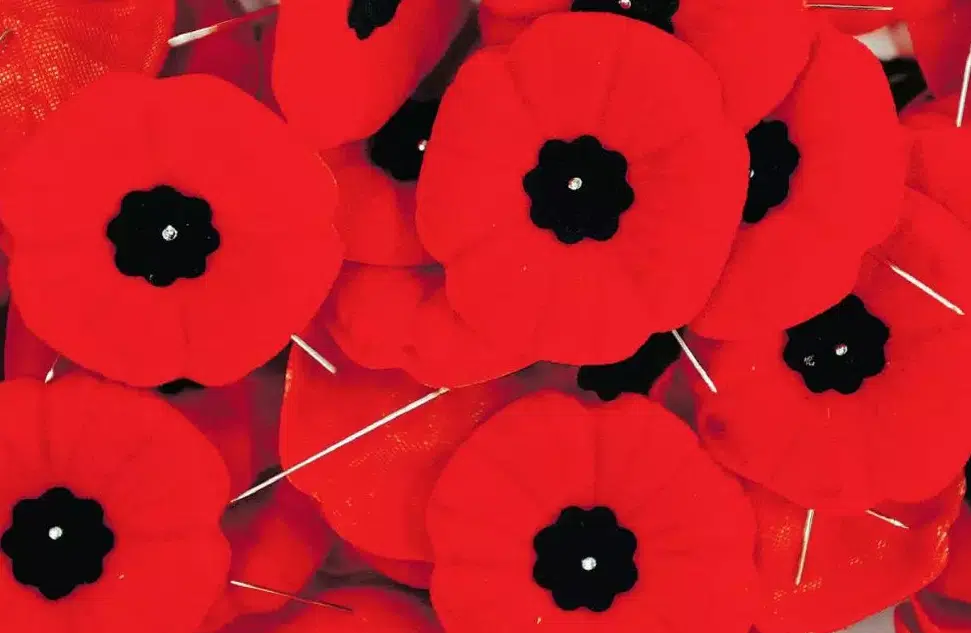 There will be ceremonies throughout the East Kootenay Sunday to commemorate Remembrance Day.
President of Cranbrook's Royal Canadian Legion branch Michael Landry says this year's ceremonies carry extra significance.
"This year is important because 100 years ago on November 11, 1918 they signed the armistice to end the first World War," says Landry. "This is a significant date in the history of Canada as well as the rest of the world."
Cranbrook's ceremony begin around 10:30 am when the parade marches towards the Rotary Park cenotaph.
The ceremony begins at 1:00 am with the Bells of Peace being rang 100 times.
The Legion will be hosting a social at the Heritage Inn starting at 1:00 pm.
Here's a list of ceremonies that will be happening throughout our region:
Canal Flats:
10:45 am – Ceremony to be held at Canal Flats Civic Centre
Cranbrook:
10:30 am – Parade marches to Rotary Park
11 am – Ceremony to be held at Rotary Park. Bells of Peace will ring 100 times.
12 pm – Social planned for Kennedy Hall on 1st Street. For the girl guides and scouts.
1 pm – Social planned for Royal Canadian Legion, Heritage Inn basement
Kimberley:
10:20 am – Parade to Veteran Memorial Park
10:55 am – Ceremony at Veteran Memorial Park
12 pm – 3 pm – Kimberley Elks Club to host a light lunch and some music provided by the Kimberley Pipe Band and the Kimberley Community Band.

Fernie:
10:40 am – Parade to the Cenotaph – Legion Members, RCMP, 1st Responders, 3300 Club, City of Fernie, Cadets etc.
10:55 am – Cenotaph service begins.
11:00 am – 2-minute silence.
11:30 am – Bells of Peace will ring 100 times to emulate the moment in 1918 when church bells across Europe tolled as four years of war had come to an end.
11:45 am – Parade returns to the Fernie Legion – members & guests welcome.
12:00 pm – Ecumenical Service at the Legion performed by Branch Padre, Reverend Andrea Brennan.
12:20 pm – Beverages will become available.
1:00 pm – Music and entertainment by Russ LeBlanc and friends.
5:03 pm – At the going down of the sun we will again ring the Bells of Peace 100 times, in the Legion, to coincide with bells across the country to honour Canada's Veterans and commemorate the end of the First World War.
5:10 pm – The Fernie Choir will perform (following on from the Bells of Peace).
Sparwood:
10 am – Church Service at Senior's Drop-in Centre
10:45 am – Parade to Cenotaph
10:55 am – Ceremony at Sparwood Public Library
Invermere:
10:30 am – Royal Canadian Legion Branch No. 71 is holding its annual procession from the Legion on 13th Street to Cenotaph Park.
10:55 am – Ceremony and laying of wreaths at Main Street Cenotaph
– Michael Landry – President, Royal Canadian Legion Branch 24, Cranbrook