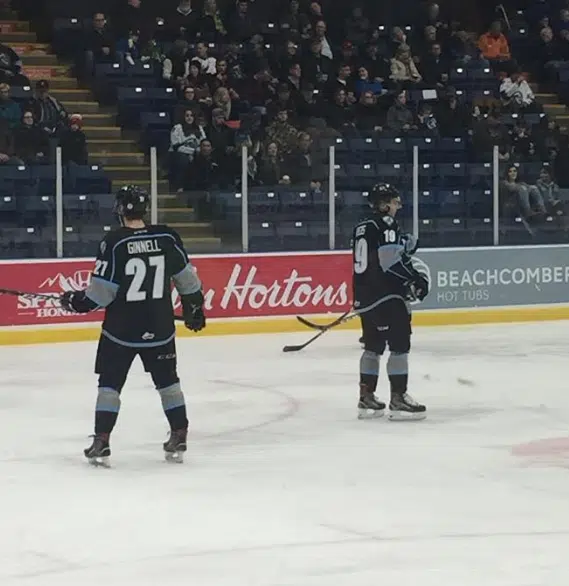 Lady Luck couldn't find her Kootenay ICE jersey Saturday night.
A pair of lucky bounces and some stellar goaltending from Nolan Maier secured a 2-1 win for the visiting Saskatoon Blades, who finished their four-game road trip with a 3-1 record.
The Blades were able to fend off a quick start from Kootenay early on in the first period and had their first of two lucky goals around the eight-minute mark of the opening frame.
The first goal came after Blades forward Josh Paterson shot a puck towards the Kootenay goal from the right boards, on the way the puck touched linemate Gary Haden and then hit an ICE defender to beat Jesse Makaj to make the score 1-0.
The ICE responded towards the end of the period on a 2-on-1 rush after Cole Muir jumped on a turnover at centre ice.
He was looking to pass to Peyton Krebs who had joined on the rush, but Muir opted to shoot and beat Maier to make the score 1-1 as the period ended.
Both teams traded chances in the second period but a once in a lifetime goal from Blades defender Seth Bafaro would stand as the game winner.
Bafaro ripped a high shot from the point which bounced off the glass behind Makaj, then hit the roof of the net, then bounced off the back of the Kootenay goalie and found its way into the back of the net making the score 2-1.
The ICE had chances with three power plays in the second period, including a prolonged 5 on 3 but could not crack the code in the Saskatoon crease.
The third period was much the same for Kootenay, who greatly outchanced the visitors, but strong goaltending kept any potential comebacks at bay.
The ICE packed one last push in the final few minutes and pulled Makaj for the extra attacker, but could not beat Maier and the Blades would hold on for a 2-1 victory.
Kootenay defender Jonathan Smart says it was a disappointing way to lose, considering they carried the play for most of the game.
"It's a little frustrating, you want to score goals," said Smart. "Any other night I think we get a little more puck luck, so we'll see how tomorrow goes."
ICE goalie Jesse Makaj preformed well in his first start at Western Financial Place, stopping 28 of 30 Saskatoon shots.
"I was a bit nervous at first, but it was great to play in front of these fans, we have great fans here."
The ICE won the shots battle 37-30, but their most telling stat came from special teams.
Kootenay went 0/5 on the power play, despite numerous chances.
The ICE will aim to shake their current four-game losing streak Sunday in Calgary when they battle the Hitmen, who currently sit at the bottom of the Central Division standings.
– Jonathan Smart – Defenceman, Kootenay ICE
– Jesse Makaj – Goaltender, Kootenay ICE